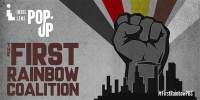 NMPBS and The Anti-Racism Training Institute of the Southwest
The First Rainbow Coalition
A Free Preview Screening
1025 Broadway Blvd SE ABQ NM 87102
Time: 11:00am Day: Friday Doors: 10:30am Ages: All Ages Price: FREE
This Event Has Ended
In 1969, the Chicago Black Panther Party began to form a multi-ethnic coalition with the Young Lords Organization and the Young Patriots. Banding together in one of the most segregated cities in post-war America, the Rainbow Coalition changed the face of 1960s Chicago politics and created an organizing model for future activists and politicians.
Ray Santisteban (Producer/Director) has worked for the past twenty-six years as a documentary filmmaker, teacher, and film curator. His work consistently gravitates toward political subjects and artist profiles, addressing the themes of justice, memory and political transformation. A graduate of NYU's film and TV production program, he has explored a variety of subjects including New York Black Panther leader Dhoruba Bin Wahad - Passin' It On (Co-Producer), the roots of Puerto Rican poetry, Nuyorican Poets Cafe (1994, Director, Producer, Editor), Chicano poetry, Voices From Texas(Directed, Producer) and was Senior Producer of Visiones: Latino Art and Culture in the U.S. a three hour PBS series nationally broadcast in Oct. 2004. Awards garnered include: a 1992 Student Academy Award (information division), a 1996 "Ideas In Action" Award from the National Tele-Media Alliance, a 1996 "Faculty of the Year" Award from the Chicano Studies Program, UW Madison, a 2016 San Antonio Artists Foundation Filmmaker Award, and a 2016 Tobin Award for Artistic Excellence. Since 1998, he has been based in San Antonio, Texas.
Following the film screening in the theater, audience members will be invited to move to the community room for a conversation with filmmaker Ray Santisteban.
FREE EVENT- Limited Space- RSVP
RSVP Link: Click here